Check out IXACT Contact's latest news release:
IXACT Contact Solutions Inc., a leader in the real estate CRM and real estate marketing space, has launched an exciting contest on Facebook with the goal of creating engagement with its customers on Facebook, learning more about what aspects of the real estate software subscribers like the most, and rewarding them through an iPod Nano giveaway.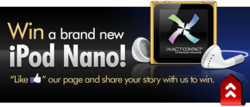 Submissions to our 'Share Your Story and Win!' contest have been amazing and have showed us just how much our customers love the simplicity and ease-of-use of IXACT Contact
Toronto, Ontario, Canada (PRWEB) June 24, 2011
Leading real estate CRM firm IXACT Contact has recently launched a new contest on Facebook – the first social media promotion ever launched by the company. The contest, entitled, "Share Your Story and Win!" asks subscribers to write a short paragraph on how the real estate software has helped them become a more effective Agent. The winner will receive an iPod Nano and the winning entry will be chosen at the end of June.
IXACT Contact has been promoting this contest through an email marketing campaign targeted at existing subscribers. The real estate CRM firm is generating awareness and buzz about the contest through their blog and social media outlets on the web, such as LinkedIn, Twitter, and ActiveRain.
The contest has its own dedicated tab and banner on the company's Facebook page. It's very easy to enter, with fans simply having to go to Facebook, like the page, and complete a short form. Upon entry, contestants are given the option to subscribe to the IXACT Contact blog– a blog that gives readers tips and advice on relationship marketing and effective contact management. Once entered, participants have the opportunity to write a public comment about the promotion.
IXACT Contact Facebook fans can also easily click a button to like the promotion and/ or send it to their friends. "Many organizations do not have a presence in the social media world and we believe that those who don't are missing out. IXACT Contact is fully committed to maintaining an active presence in social media and making it easy and fun for customers and prospects to have ongoing dialogue with the company through various social media channels," said Rich Gaasenbeek, vice president, Sales and Marketing, IXACT Contact.
To this point, the amount of contest entries have been more than the company originally expected. Those who've entered have touted the real estate software's drip marketing, smartphone wireless sync capability, customer support, email and letter templates, and automatic website lead capture. "Submissions to our 'Share Your Story and Win!' contest have been amazing and have showed us just how much our customers love the simplicity and ease-of-use of IXACT Contact. Customers are also thrilled with how the system helps them generate leads, grow their SOI, and manage their business in an organized way," commented Gaasenbeek.
The company plans to design more Facebook contests in the future, with the next promotion targeted to prospective customers. New promotions through the firm's Twitter page are also a good possibility in the coming months.
About IXACT Contact Solutions Inc.
IXACT Contact® is an easy-to-use Web-based real estate CRM system that helps Agents build lasting relationships with past clients, hot prospects and important referral sources. IXACT Contact makes it easy to maintain full contact profiles and to stay in touch with clients in a way that's personalized, relevant and timely. With IXACT Contact, real estate agents can convert more leads into listings and attract more referrals and repeat business. Real estate sales and real estate prospecting become easy.