We are excited to share the release of a new Lead Distribution feature specifically for teams! With Lead Distribution you can broadcast new leads to selected members of your team 'jump ball' style, and your team members can claim and action your team's leads on a first-come-first-serve basis.
Lead notifications with a clickable link to claim each lead can be sent to each selected team member by email and/or text. And, if you have created your IXACT Contact agent website, you can send different kinds of leads to different team members based on the type of form the visitor filled out on your website. Send your seller leads only to your seller agents, and your buyer leads only to your buyer agents.
This new feature will help ensure that all of your leads are responded to as quickly as possible, and by the right member of your team.
Note that leads sent directly to a team member will still be automatically assigned to that team member, and will not be part of Lead Distribution.
To turn on this exciting new feature, go to the Lead Capture tab of your User Profile, and under the Lead Distribution section, select the box 'Enable Lead Claiming'. Then, configure your team member settings in the list that appears below. Note that to turn on text alerts for a team member, that team member needs to first set up text lead notifications in their own IXACT Contact account.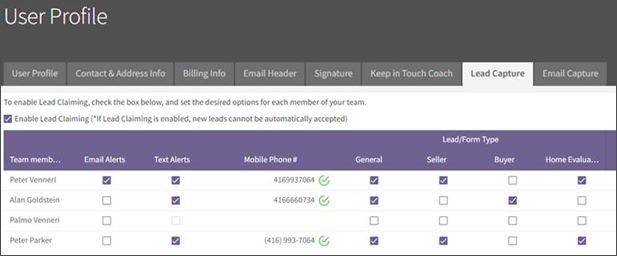 Not an IXACT Contact user yet? See all that our system has to offer you and your team! Start your FREE 5 week trial of IXACT Contact now.